1. Artwork Timeline
Catalogue Raisonné, auction prices, exhibition history:
All in one place with the artwork timeline.
Starting in 2016 over the course of five years we meticulously digitised and reorganised hundreds of catalogues raisonnés, important monographs and exhibition catalogues of the world's most visible artists to bring what is generally referred to as a "price database" into the 21st Century.
Welcome to the future of online, aggregated and always in itself updating catalogues raisonnés.
Facture in Numbers
Gain access to the world's most diverse and comprehensive art database
13 million+
Auction records from 100,000 auction houses going back half a century
35,000+
Private and public art collections
2 million+
Artworks from Museums worldwide
2. Search
Elevate your curatorial practice onto another level.
Deepen your knowledge and capabilities with an agnostic search functionality that goes beyond an artist's name or an auction house. Search entire private collections, past important exhibitions or a specific material for an overview of art historic exceptionalism that is second to none.
Search results: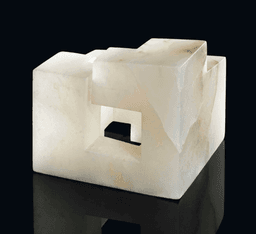 Eduardo Chillida (1924-2002) Elogio de la arquitectura IV, Executed in 1974
Alabaster 15 × 17 × 16cm Sold at Chrstie's, London Live Auction 1106 Post-War and Contemporary Art (Evening Auction) 13 February 2013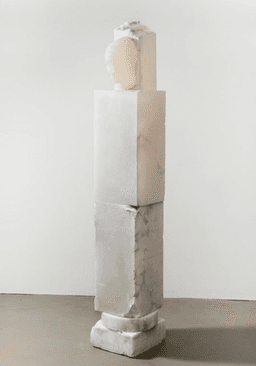 Vanessa Beecroft Miki Alabaster, 2012
White alabaster marble 195 × 34.5 × 48 cm Courtesy of Lia Rumma Milan /Napoli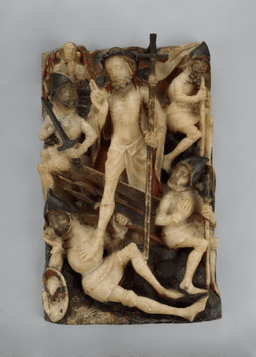 Unknown Artist / Maker The Resurrection, 15th century
Alabaster, gilded and painted 44.5 × 27.9 cm The Wallace Collection, London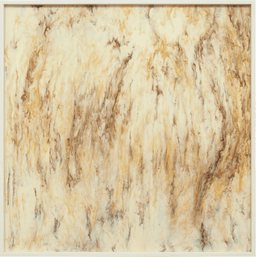 Sterling Ruby Alabaster Centrifugal #1, 2007
Acrylic, in artist's frame 124.8 × 124.8 cm Sold at Phillips, New York 20th Century & Contemporary Art Day Sale, 16 May 2018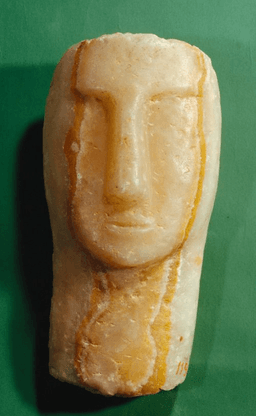 Gesichtsstele Kopf 2. - 1. Jh. v. Chr.
Alabaster H 20,5 cm, B 10,5 cm, T 6 cm Kunsthistorisches Museum, Wien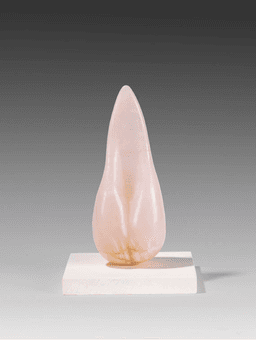 Louise Bourgeois Cunt l/ Untitled (Femme), 1969/70
Rosa Alabaster 17 × 7 × 5 cm Sold at Ketterer Kunst, Munich Sale: 437 / Post War | 10 December 2016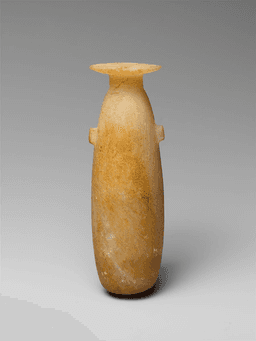 Alabaster alabastron (perfume vase), 5th-4th century B.C.
Gypsum (alabaster) 13.3 × 4.4 cm The Metropolitan Museum of Art, New York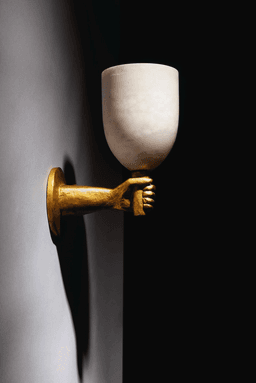 Alberto Giacometti Pair of "Le Poing" Sconces designed circa 1935
gilt bronze, alabaster 28.89 × 14.29 × 22.86 cm Cat. No: AGD 4157 Private Collection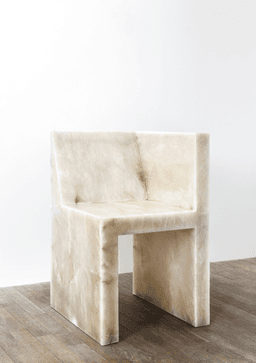 Rick Owens Half Box, 2011
Half Box (Alabaster), 2011 Sculpture 77 × 50 × 50 cm Limited Edition of 8 + 4 AP Courtesy of Carpenters Workshop Gallery Paris, New York, London, San Francisco
3. Image recognition
In a visual world you need visual search.
In an increasingly globalised world of different cultures and identities visual language becomes as important for communication as the written word.
Search any artwork with an illustration of that work by taking a photo or uploading a JPEG to receive the artwork details within seconds.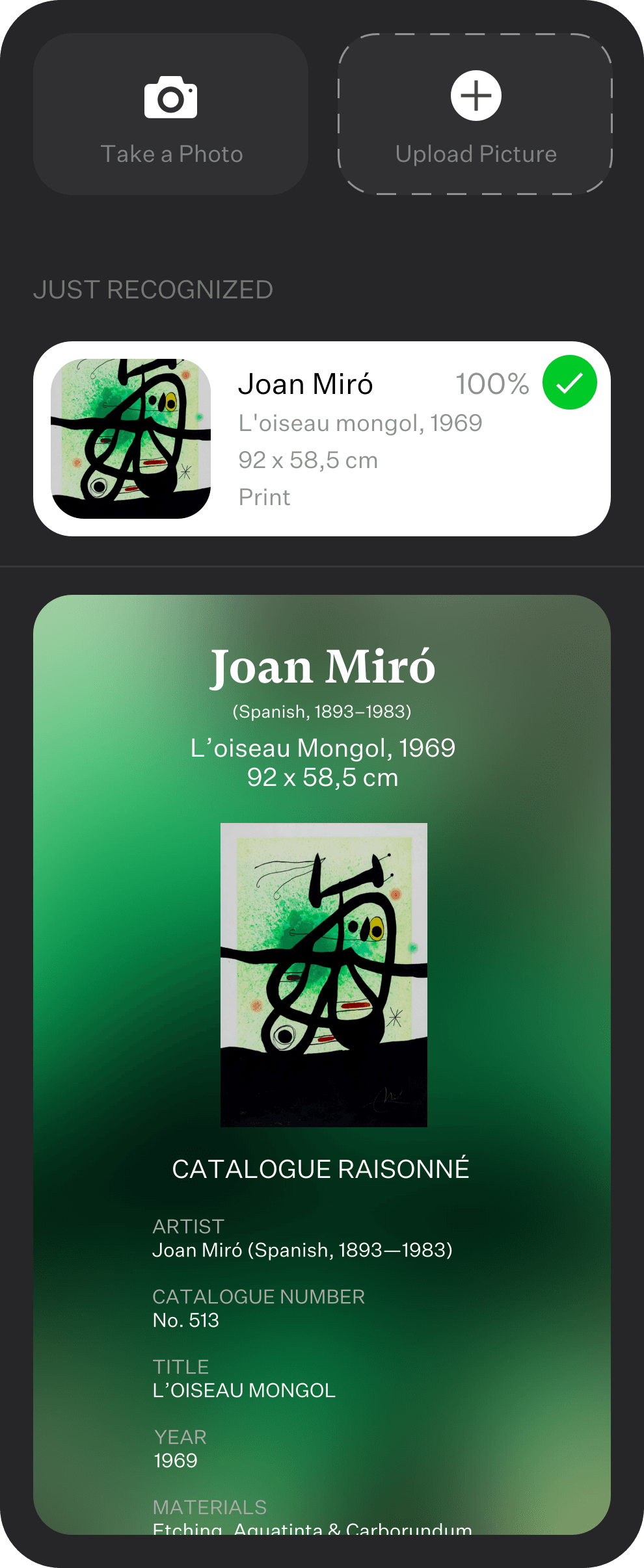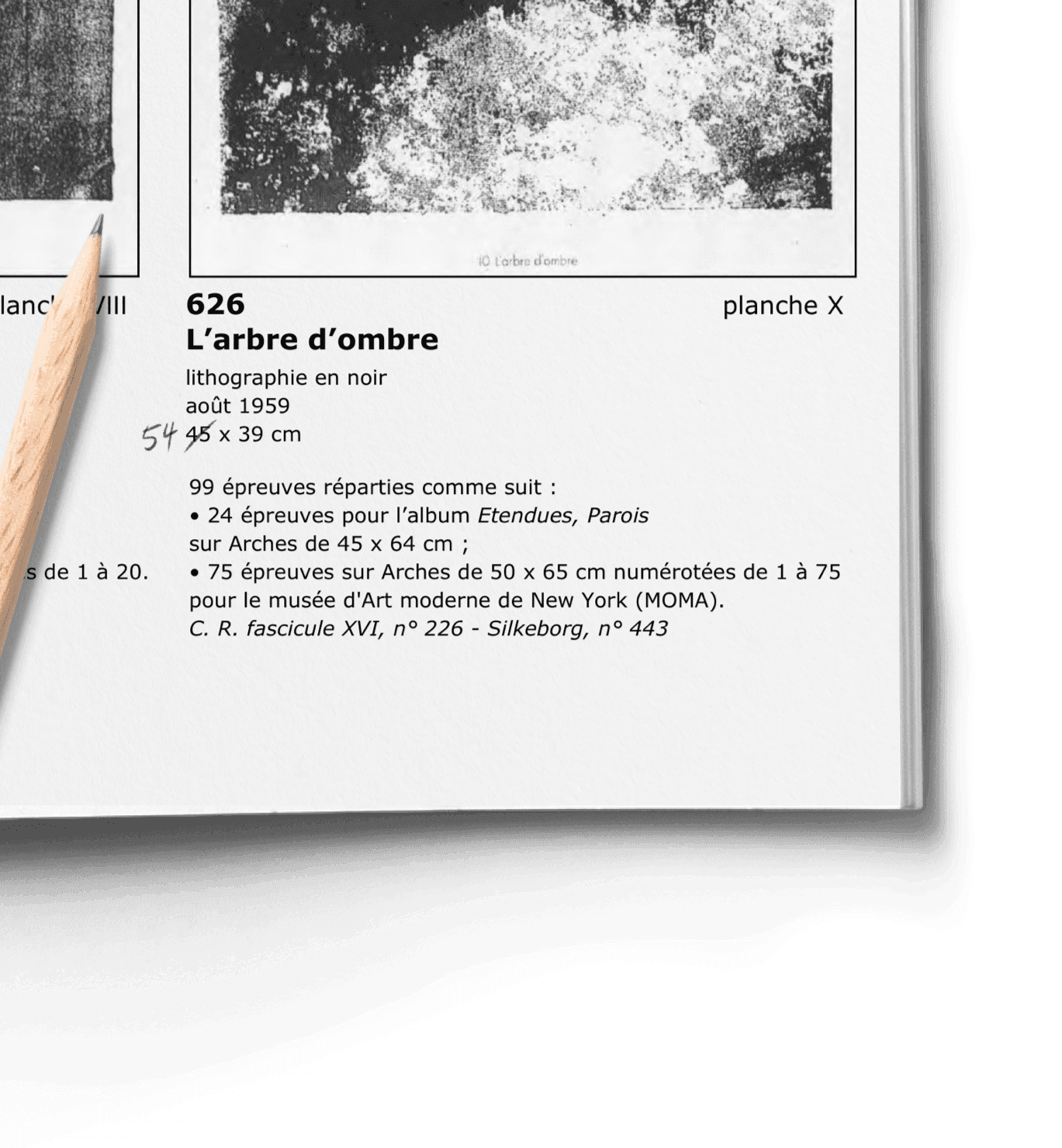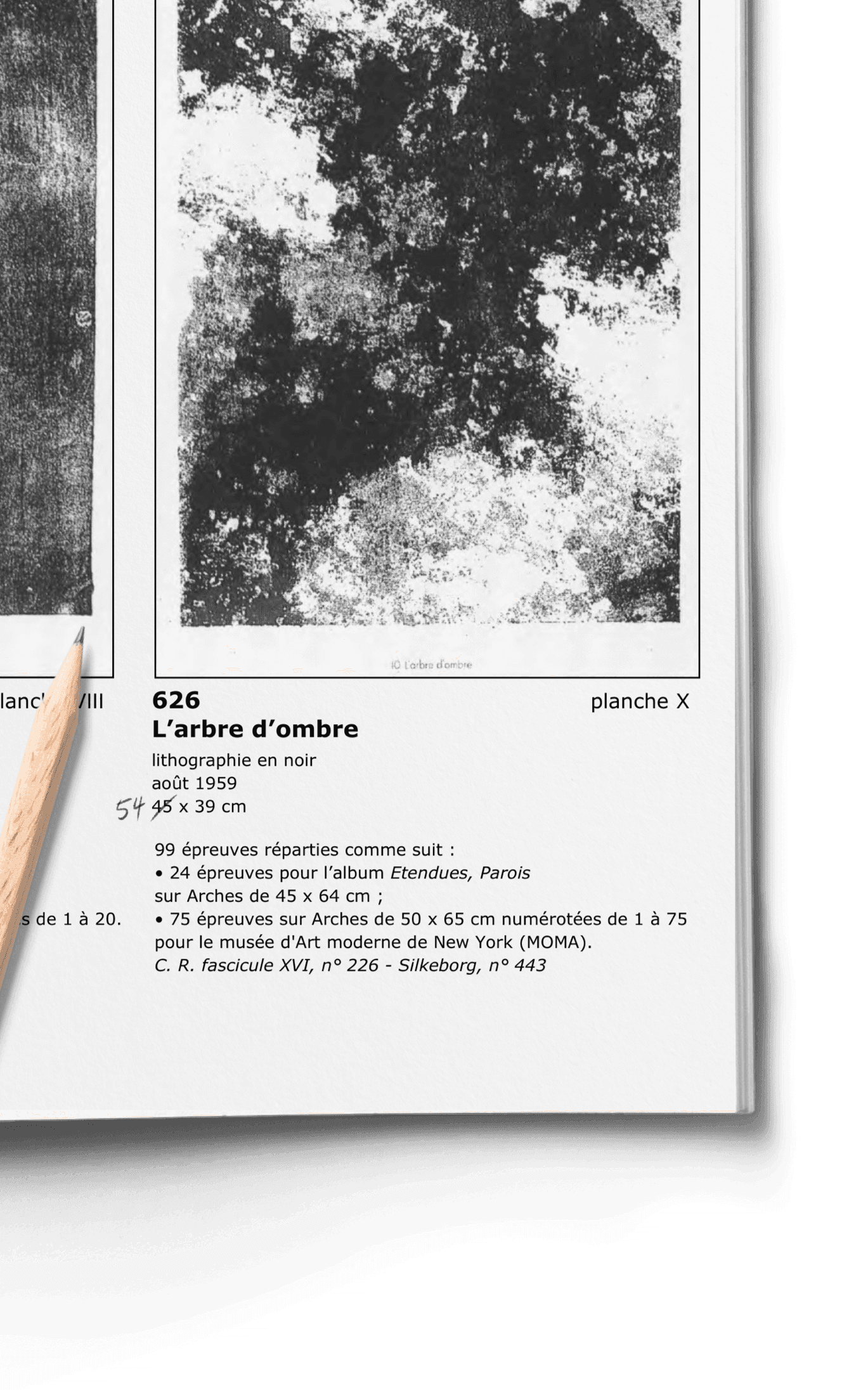 4. Editing
Take back control of art history authority.
Supplement catalogue raisonné data by adding a note, or view the comments and corrections submitted by a network of experts.
On Facture, you can interact with others and improve the accuracy of a specific catalogue raisonné entry, just by submitting a comment.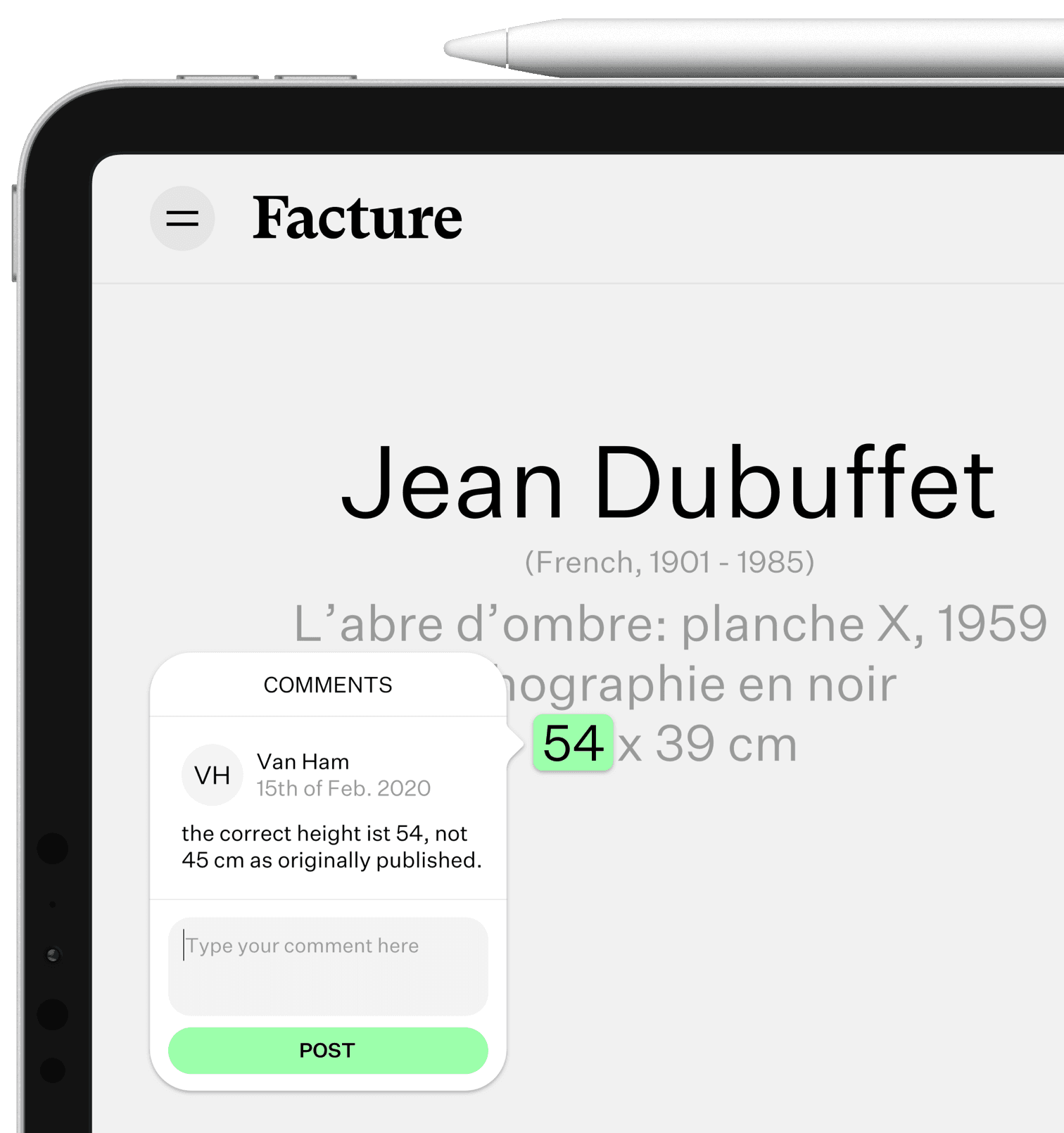 Stay in touch
Sign up for our newsletter and be the first to know of new features, artists and pricing options on Facture.
You can unsubscribe from our newsletters at any time by clicking the "unsubscribe" option at the bottom of any of our newsletters.
Or why don't you try it out?
Try out our state-of-the-art image recognition technology on WhatsApp, free of charge for a week!
Simply follow this link and get started.

Are you a business?
If you are a business and would like to find out about our bespoke solutions or dedicated API access please get in touch.
All artworks © the artists.
© 2023 All Rights Reserved. Artwishlist Ltd.